Reliable & Dedicated Pressure Washers Serving Seale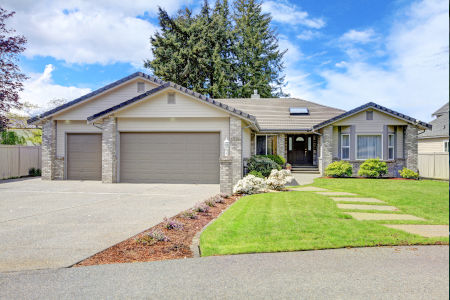 In Seale, residents can always depend on Forever Faithful Pressure Washing to provide top-notch pressure washing and exterior cleaning work. Our team strives to be the best in the industry and to serve our community with honesty, integrity, and a commitment to superior workmanship. Our team is licensed and insured, and each of us has a vast knowledge of pressure washing methods and techniques to guarantee that you get the best results possible.
If you're in Seale and are ready to invest in transformative pressure washing and exterior maintenance, then Forever Faithful Pressure Washing is the local contractor for you! Give us a call today and see how we can help you achieve your goals for your property.
Seale's Leader In Superior Driveway Washing
Though you may not realize it, your driveway is a factor that can affect your home's curb appeal. If yours is dirty and unkempt, then it's subtracting from your home's beauty and value. Furthermore, driveways slick with mold and algae growth pose a fall hazard for anyone who walks across them. This is a liability for the homeowner that shouldn't be taken lightly as it could result in serious injury. For these reasons and more, you should make sure to schedule driveway washing services to keep this exterior in good shape over the years. Investing in pressure washing for your driveway can:
Get weed growth under control
Remove dangerous, slippery organic growths
Extend the service life of your concrete
Elevate your home's curb appeal
Prevent permanent concrete stains and damage
Eliminate deeply set-in stains
With so many advantages, you'd be remiss to bypass this cleaning service for your property! If you're ready to give your driveway the care it needs to stay beautiful and intact over time, then you need our pressure washing experts for the job!
Invest In Soft Wash Roof Cleaning For Your Seale Home
When it comes to pressure washing your roof, the main concern for many homeowners is that the cleaning may be too harsh and could cause damage to their roof shingles or other roofing materials. However, you won't have to worry about any undue damage occurring thanks to the soft washing method we use here at Forever Faithful Pressure Washing. Instead of using heavy water pressure, soft washing employs mild water spray with eco-friendly detergents to give your roof a no-pressure deep clean that won't cause harm to its more delicate area. While soft washing is ultra-gentle, it doesn't sacrifice any effectiveness. You'll still get a thorough clean that will make your home exterior look significantly better.
Regular roof cleaning has several major benefits like boosted curb appeal, better energy efficiency, and increased roof lifespan that we know no homeowner wants to miss out on. This is why we offer this service at an affordable price and urge property owners to prioritize it as needed. Hire us for your next roof cleaning and see what makes us the premier in pressure washing for Seale.
Reviews & Testimonials on Forever Faithful Pressure Washing LLC in Seale, AL
There are currently no reviews or testimonials, check back soon!
Articles & Tips
The Benefits Of Driveway Washing

When you think about all the times you use your driveway, it doesn't take long to realize that your driveway might be the exterior surface you rely on the most at your property. But perhaps more than […]

Why Professional Pressure Washing Always Beats DIY

Pressure washing machines are available to rent or buy at almost any major hardware store, and the temptation to use one can be hard to resist. Like driving a sports car, though, just because you can […]
Schedule Your Top Notch Phenix City Pressure Washing Services Today!