Phenix City Concrete Cleaning To Wash Away Years Of Wear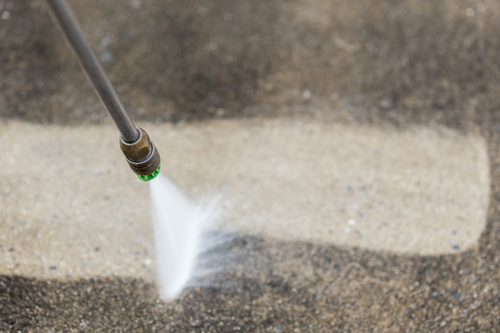 Are you looking to hire Phenix City's best residential concrete cleaning pros? Look no further than Forever Faithful Pressure Washing, one of the best Phenix City pressure washing companies around. Your property is likely made up of all kinds of concrete surfaces, from walkways to patios and more. While concrete is a tough and durable material, it can get dirty over time, just like anything else. As more and more grime accumulates, it gets packed into the porous surface. Since concrete is so tough, it can be very difficult to clean with something as simple as a sponge and hot water. You need something stronger, and you need the proper methods to tackle it.
Forever Faithful Pressure Washing uses industry-grade pressure washing equipment for all of our concrete cleaning projects. The high-water pressure can penetrate the surface of the concrete and get deep into its pores, drawing out all the dirt, grime, and other impurities and completely wipes them away. After a few concrete cleaning sessions, you'll be blown away at how the surfaces around your property have transformed.
Concrete Cleaning To Revitalize Your Surfaces
Phenix City homeowners can count on us to get their pressure washing projects done right the first time. We use standard industry techniques that ensure accuracy and precision so your concrete won't end up with any cracks that could make room for plants or pests! You'll be amazed to see the concrete around your home left in the best shape it's ever been in.
We handle jobs of any size and offer other cleaning options like roof cleaning and house washing. If you need concrete cleaning services to restore the beauty of your home in Phenix City, then schedule a pressure washing appointment with the Forever Faithful Pressure Washing crew today!
Prevent Concrete Cracking and Flaking
Nothing ruins the looks of your beautiful home quite like cracking and flaking concrete surfaces. Luckily, Forever Faithful Pressure Washing offers high-quality concrete cleaning services to prevent this unfortunate circumstance and keep your concrete in excellent shape. Sun exposure, heavy rain, and other outdoor factors can take a toll on concrete over time, especially when you don't take measures to get it cleaned regularly. Unrelenting sun rays can slowly break down concrete and cause unsightly flaking and disintegration, while heavy rainfall can cause flooding and erode the concrete until it cracks. Additionally, weeds and other organic growths can sprout up in concrete pavement and cause severe cracking. Concrete cleaning is essential to preventing these problems from destroying your concrete exteriors and helping to extend their lifespan. Our cleaning solutions remove any stains and organic growths without causing damage to your surfaces.
Articles & Tips
The Benefits Of Driveway Washing

When you think about all the times you use your driveway, it doesn't take long to realize that your driveway might be the exterior surface you rely on the most at your property. But perhaps more than […]

Why Professional Pressure Washing Always Beats DIY

Pressure washing machines are available to rent or buy at almost any major hardware store, and the temptation to use one can be hard to resist. Like driving a sports car, though, just because you can […]
Schedule Your Top Notch Phenix City Pressure Washing Services Today!