Pressure Washing Services In Richland That Will Impress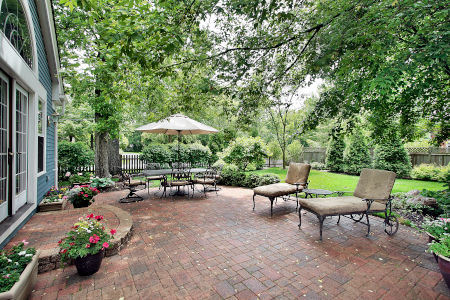 Richland's top-choice for pressure washing is Forever Faithful Pressure Washing, so let it be yours, too! Contact us for any of your exterior cleaning needs today. Our extensive list of services means that we can produce a bright clean on any surface that may need it. Our customers know that we work with them to make sure the experience is as agreeable as possible and that our friendly technicians are there to make your expectations a reality. Second-rate pressure washing companies may be satisfied with an okay result, but trust us when we say that is not us! We only strive for the best and won't stop until we get there. If you'd like to see the exterior surfaces of your Richland home stripped of that layer of grime, Forever Faithful Pressure Washing is the company for you.
Boost Curb Appeal & Safety With Driveway Washing In Richland
Ugly oil stains stand out particularly well on concrete driveways, tending to draw the eye and negatively affect curb appeal. Forever Faithful Pressure Washing combines pre-treatment with highly effective, biodegradable, eco-friendly cleaning solutions to eliminate stains and eyesores from your concrete driveway. Our expert pressure washing uses specialized equipment for a driveway washing one-two punch that'll leave you truly amazed at the results.
The professional pressure washing team at Forever Faithful Pressure Washing loves a challenge, and it's fulfilling for us to watch dirt, stains, spills, and discoloration disappear, leaving concrete restored to its original luster. We're experienced with the types of organisms that thrive on concrete surfaces in the humid air of Richland. We're experts at killing and removing those destructive organisms, along with oil stains—which are incredibly offensive to us because they pose significant slip and fall dangers. Make your driveway a safer space for us by getting driveway washing services regularly from a pro.
Quick & Easy Roof Cleaning For Rooftops In Richland
Forever Faithful Pressure Washing's roof cleaning process uses specialized low-pressure sprayers to apply environmentally friendly, biodegradable, water-based cleaning solutions formulated specifically for your type of roof. You can depend on our experienced roof cleaning team to take great care of your roof, and when you add our house washing service, you'll have a complete package that greatly enhances your property's curb appeal.
Every roof presents its own unique roof cleaning problems and challenges. Your roof's size, shape, or composition dictates the proper methods and techniques for superior results. Soft washing makes it easy to clean any roofing type quickly and thoroughly. It aids in eradicating harmful bacteria and algae and protects against caustic organisms and animal droppings that can eat away at your shingles and damage your roof. Our team of soft washing experts uses the proper cleansing agents and PSI for each specific material of your roof for maximum effect without affecting your fragile shingles and tiles.
Reviews & Testimonials on Forever Faithful Pressure Washing LLC in Richland, GA
There are currently no reviews or testimonials, check back soon!
Articles & Tips
The Benefits Of Driveway Washing

When you think about all the times you use your driveway, it doesn't take long to realize that your driveway might be the exterior surface you rely on the most at your property. But perhaps more than […]

Why Professional Pressure Washing Always Beats DIY

Pressure washing machines are available to rent or buy at almost any major hardware store, and the temptation to use one can be hard to resist. Like driving a sports car, though, just because you can […]
Schedule Your Top Notch Phenix City Pressure Washing Services Today!